New Feature Alert!
SchoolBridge provides a single point of access to all of your services, and now with Magic Link, signing in is even easier for caregivers!
No more 'What's my Password'...
Magic Link allows caregivers to sign in to SchoolBridge even if they have forgotten their password. When enabled, caregivers see the option to sign in using 'Magic Link', where they enter their email address and are directed to check their email account for an email that contains the magic link. Clicking the link automatically signs them into SchoolBridge, as well SchoolPoint and the KAMAR portal.
Magic-Link Permission Slips
Magic Link also enhances the functionality of Permission Slips by making slip notifications work as magic links. When a caregiver receives an email requesting them to approve a slip, the link they click is a magic link and they are automatically logged into SchoolBridge and taken to the permission slip to approve.
Combined with the SchoolBridge sibling switcher, Magic Link eliminates the need for your team to support caregivers that have forgotten their passwords.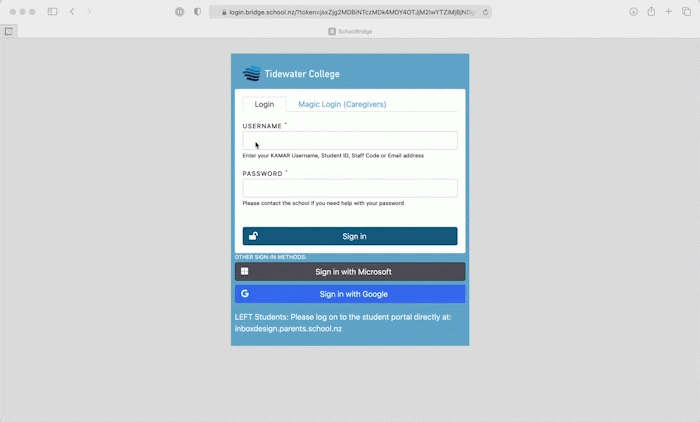 There is an additional fee of $15/month for Magic Link that covers the costs of sending the link emails.
You can enable Magic Link for your school now by going to the settings and clicking 'Enable'. Contact [email protected] for more information.
Special thanks to Maria Kerr at Sacred Heart Lower Hutt for suggesting this feature!
If you have a feature you would like to see in SchoolBridge please let us know!
Share this article: