Inbox Design's
New Content Management System
"SchoolSite" is here
officially going live on Friday, 5 April 2019
Introducing SchoolSite:
Websites that work for Schools. SchoolSite is the new name for the Content Management System which empowers you to customise your website. For many years we have been helping New Zealand Schools reach their community by creating websites that are uniquely designed. We are proud of each website that we have produced and the close relationships that we keep building along the way.
Introducing SchoolBridge:
Tools that connect your community. We have rebranded KnowledgeBase to SchoolBridge. SchoolBridge is a collection of tools that help connect your school's community. SchoolBridge helps your students, staff, caregivers and leadership team in sharing information and meeting administrative obligations, all based on the KAMAR data you already have.
Introducing SchoolPoint:
Course selection...Solved. SchoolPoint is a KAMAR driven course selection, student voice and student pathway tool with reporting options to make any staff member happy.
We are excited to show you the new version of the Content Management System.
With SchoolSite, we have spent some time making a few visual changes, rebranding, improvements to Site Extras and adding helpful tips. Below please find a list of the changes that we have made to help you navigate through this new version with ease.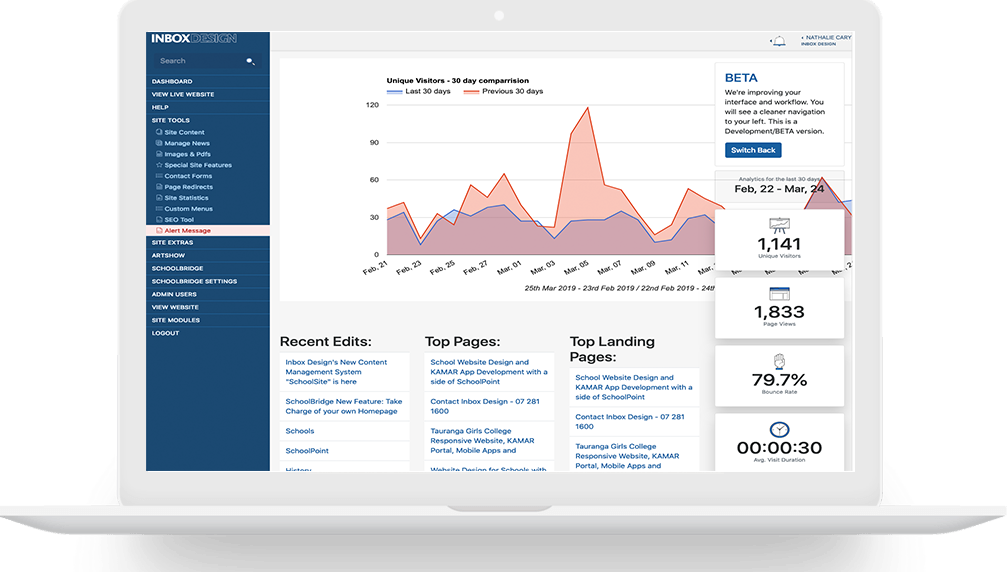 Left Hand Side Menu:
Site Tools
Site Tools comprises of all the basic tools that are used to create the pages and content of your site.


Site Extras
Site Extras add extra capabilities to your site like activity registrations or e-commerce. If you have a need for extra functionality of your site please contact Inbox Design to discuss your needs. Extras are available for: E-Newsletters, Sport and Activity Registrations, E-commerce (uniform shops and more), E-Tickets (for hosting events), Reunion Events, Job Vacancies, Community Education, Fundraising Event Management.


SchoolBridge
SchoolBridge is Inbox Design's collection of tools for schools connect teachers, staff and caregivers for more efficient teamwork.
Improvements to Site Extras:
E-Newsletters
This is a great way to connect with caregivers and keep them informed about everything that's going on at your School, and it makes posting the news and creating newsletters effortless.
Activity Registrations
The Activity Registrations, enables your school to organise registration and payment for extra curricular activities. All student and caregiver information is checked against your existing KAMAR data, so no extra work is required to connect with your community, now with sms text reminders to help keep Caregivers on task
Requests
The SchoolBridge system allows you to easily cater to the needs of your school for both internal requests (staff leave of absence requests, resource requests) as well as external requests (Education Outside of the Classroom - EOTC). Synced with KAMAR.

Help:
We have added some valuable step by step helpful documents for how to manage your website. Navigate to the "Help" in the left hand navigation and select the help document you require assistance with. Alternatively, please do not hesitate to contact us directly.
For advice on SchoolSite, SchoolBridge, SchoolPoint contact support:


Remote Support: Click Here Download TeamViewer
Telephone Support: +64 7 281 1600 (Monday-Friday: 8am-5pm )